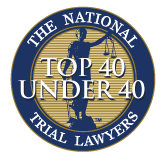 Our team here at Berthold Law Firm, PLLC in Charleston, West Virginia is proud to announce that Attorney Matthew Berthold has been invited to The National Trial Lawyers: Top 40 Under 40. Matthew has always been committed to excellence in our practice and the fair treatment of injury clients who have been wronged. We believe this nomination serves as a fantastic reminder and testament to all the good he has done for our clients, and promises to continue to do as his career grows.
Attorney Matthew Berthold is particularly well-versed in:
What is the Top 40 Under 40?
The National Trial Lawyers (NTL) has long been regarded as one of the top professional organizations in the country that recognizes and awards the very best trial attorneys and litigators in the country. To shine a light on up-and-coming lawyers within civil plaintiff and criminal defense practices, The National Trial Lawyers has created its Top 40 Under 40 distinction, which can only be given to legal professionals under 40 years of age. Membership is also invitation only; no one can purchase a spot within this prestigious group.
Qualities sought in NTL: Top 40 Under 40 members include:
Ability to act as a leader in and out of court.
Strong reputation with peers and clients.
Positive influence within local communities.
Constant compliance with state bars.
History of successful trial results.
Outstanding qualifications and accreditations.
Nomination to the Top 40 Under 40 starts with peer nominations collected by The National Trial Lawyers. Attorneys that have been nominated several times or stand out from the rest will be researched using an in-depth third-party review system. At the end, invitations will be given to only those who are believed to best represent what it means to be a knowledgeable, compassionate, and truly dedicated trial lawyer.
Would you like to know more? Click here to be taken to The National Trial Lawyers website. If you would like the Berthold Law Firm, PLLC legal team of West Virginia personal injury lawyers, including Attorney Matthew Berthold, to work on a case of your own, please do not hesitate to contact us at your first chance. You can even start with a free consultation by calling 304.605.2040.