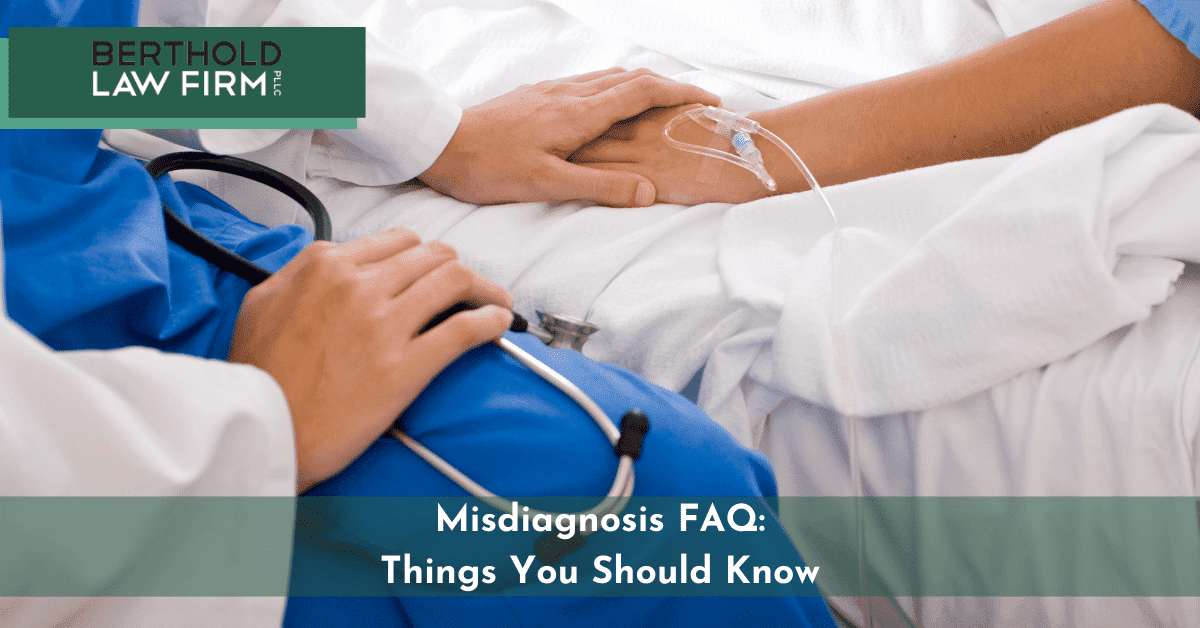 Misdiagnosis is one of the more significant problems that exist in terms of medical malpractice. Far too often, individuals don't recognize this issue's severity. As such, many questions arise when people are unsure of the aftermath when misdiagnosis occurs.
At Berthold Law Firm, PLLC, we want to make it easy to understand your rights, the problems that may exist, and more. As such, we want to answer some of the most common questions we receive about misdiagnosis. With these answers, you can better understand the obstacles that may arise and what you can do moving forward.
Some of the most common questions we receive include:
What do I do if a doctor misdiagnoses my condition?
What are the commonly misdiagnosed diseases?
What are the biggest issues with misdiagnosis?
How often does misdiagnosis happen?
If you receive a misdiagnosis, know that you have rights. Call us at (304) 605-2040 today.
What Do I Do If a Doctor Misdiagnoses My Condition?
Before you do anything, you should recognize some of the signs that your doctor may have misdiagnosed your condition. For instance, if your symptoms overlap and identify with more than one condition, and you have several questions following your doctor visit, it could indicate a misdiagnosis.
If your doctor didn't perform any tests and prescribed medication that isn't working for your condition, you may request a second opinion. If you feel your doctor got it wrong, you want to speak with another doctor who can confirm the first doctor's opinion or provide a different diagnosis.
What are the Commonly Misdiagnosed Diseases?
Unfortunately, some of the most commonly misdiagnosed conditions are also some of the worst and most dangerous. These conditions often have overlapping symptoms with other illnesses, and without a thorough review of your health, doctors may get the diagnosis incorrect. The most common misdiagnosed conditions include:
Stroke
Cancer
Multiple sclerosis
Lyme disease
Lupus
What are the Biggest Issues with Misdiagnosis?
The biggest issue with misdiagnosis occurs in the aftermath of the doctor getting it wrong. Unfortunately, misdiagnosis can lead to significant harm. Here are two of the biggest problems you may encounter:
Not receiving the treatment you need: Some conditions require you to receive treatment promptly to help you recover. If your diagnosis is incorrect, you may not receive treatment, and your condition may worsen.
Receiving unnecessary treatment: In some situations, you may receive the treatment options you don't need. For instance, you may get medication that causes more harm, or you may undergo surgery you don't need.
How Often Does Misdiagnosis Happen?
While it's hard to get an exact number on how many individuals receive a misdiagnosis, experts have estimated that roughly 5% of all adults who seek outpatient care receive a misdiagnosis. This ratio calculates to about 12 million people each year.
Even though the rate is 5%, which is seemingly low with the number of people who visit hospitals each year, this is dangerous. Any misdiagnosis can be dangerous, and some can be fatal. Of those 12 million people, many of them have to endure the devastating aftermath, including pain, suffering, and worsening conditions.
At Berthold Law Firm, PLLC, we know how serious misdiagnosis can be. It causes harm and emotional trauma like any other act of negligence, and the responsible party should be held fully accountable for their actions.
Our Charleston medical malpractice attorneys are ready to help you through the process of pursuing justice and compensation. Medical professionals must take care of patients. We'll work above and beyond expectations to hold these professionals accountable on your behalf.
Call our firm at (304) 605-2040 today to speak with our legal team in a free consultation. We're here for you every step of the way.